It's only been a few days since Managing Director Mark Lee returned from his week at the Bauma trade show in Germany, and he is full of the enthusiasm and energy that this event generates for our industry.
This year was no exception, and it's been reported that this has been the biggest turnout yet - with a stunning 620,000+ people in attandence over the week. Bauma is the one comprehensive venue where construction industry professionals converge to show, share, admire, explore and investigate all the latest and best equipment, machinery and innovations.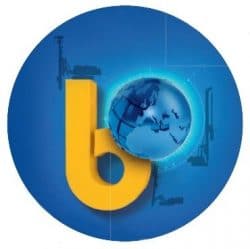 We announced last month that the ABI Group would be unveiling two brand new rigs at this years show - the ABI Mobilram TM13 and the Delmag RH36/400. If you were unable to attend the event last week, or were there but simply ran out of time, we now have the full Technical Specifications for both these new models, and have uploaded them to this site. The highlights are:
Mobilram TM13
Compact and easy to transport
'mast in mast' design
Agile, with a small footprint
Segmented counterweights
Noise reducing reinforced fibre-glass panelling
EU Stage V fully compliant engine
ABI Docking System for faster, safer mounting and removal of attachments
High extraction forces and high torque absorbtion
Suited to light to medium piling tasks on urban and/or restricted sites
Technical Data
Delmag RH 36/400
Powerfully designed for deep, large diameter boring applications
Torsionally stiff to absorb force and remain stable
400kNm of torque
Largest of all the Delmag rigs
Option for a detatchable boom extension
Counterweights and crawler track units removable for transport
Transport length reduced by folding mechanism of leader mast
'MaxCab' control cabin designed for optimum comfort and maximum visibility
Intuitive control concept with 10" screen + 7" auxilliary screen
Technical Data
TM22... with all the trimmings!
Also on show at the ABI Group stand was the increasingly popular ABI Mobilram TM22 rig - complete with RHP150S Auger Drive, MRZV 25VV Variable Speed / Variable Frequency Vibrator, MZK1200 Combi Clamp, and Auger Cleaner. This is the biggest, most powerful telescopic rig in our UK hire fleet, and we were proud to welcome a brand new TM22 to our Northampton depot last November. Almost immediately this new addition left us for several months work at London Luton Airport - where it was thoroughly put through it's paces on the Luton DART project - and we are happy to say that it won universal approval for the task at hand.
The popularity of this rig is founded upon more than just a single attribute. The TM22 has power - 200kNm of it - and yet remains compact and maneuverable, it has a multi-direction slewable/inclinable telescopic mast, and ABI's unique D6-Rapid Docking System for fast and efficient mob/de-mob times. It has an integral hydraulic system for coupling and detatching the 15t counterweight should this be required for transporting, and the carrier unit is equipped with an EU Stage IV diesel engine with another of ABI's unique innovations - the Efficiency Drive. With great low noise and, more importantly, low pollutant credentials the TM22 has been described as "the most powerful, most fuel efficient and least polluting telescopic leader rig on the market". Not a bad accolade!
Cast your eye over the Technical Specifications for this rig here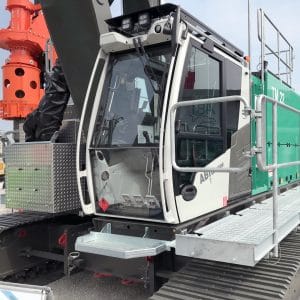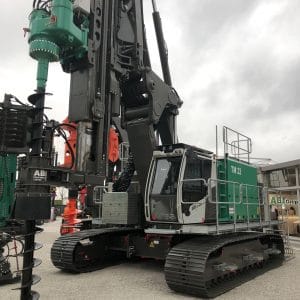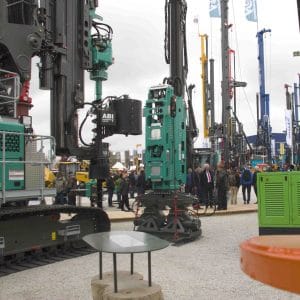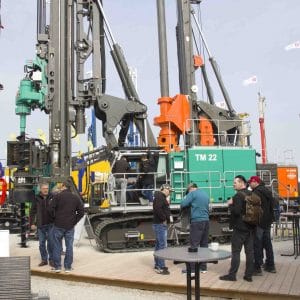 And there's more...
Also at the show this year were our friends and colleagues from SPD (Scandinavian Pile Driving) AB.
You may recall that the ABI Group has a major share in this company, and we are working to collaborate with them more and more. SPD offer a range of micro piling equipment which perfectly complement the ABI brands, broadening the range of equipment that we are able to offer.
One notable exhibit on the Bauma stand was SPD's inclusion of the 'new and improved' Interoc AN150 anchor drill rig. A member of the ABI group of brands until a few years ago, this brand has been picked up and brought back to life by our colleagues - and Bauma was the perfect opportunity to show off their re-vamped rig. We will be adding more details about SPD and their equipment ranges to our website in due course - but if you would like information in the interim, please contact us and we will happily discuss the options.
To enquire about any of the pieces of equipment that were on show at Bauma, or indeed any other rigs or attachments - including our hire fleet - please contact a member of our friendly and knowledgeable team.