The most recent issue of ABI Gruppe News has just been published – in time for your pre-Bauma reading!
Following the announcement of the equipment that will be on show at Bauma next week, the latest issue of our Group magazine gives you the low down on what you can expect to see. It leads with comprehensive articles focussing on the ABI Mobilram TM13 and the RH 36/400 – the two new rigs that will be unveiled at this year's show. Full technical specifications will not be available until after the equipment has premiered at Bauma, but these write-ups will give you all you need to know in advance of your visit.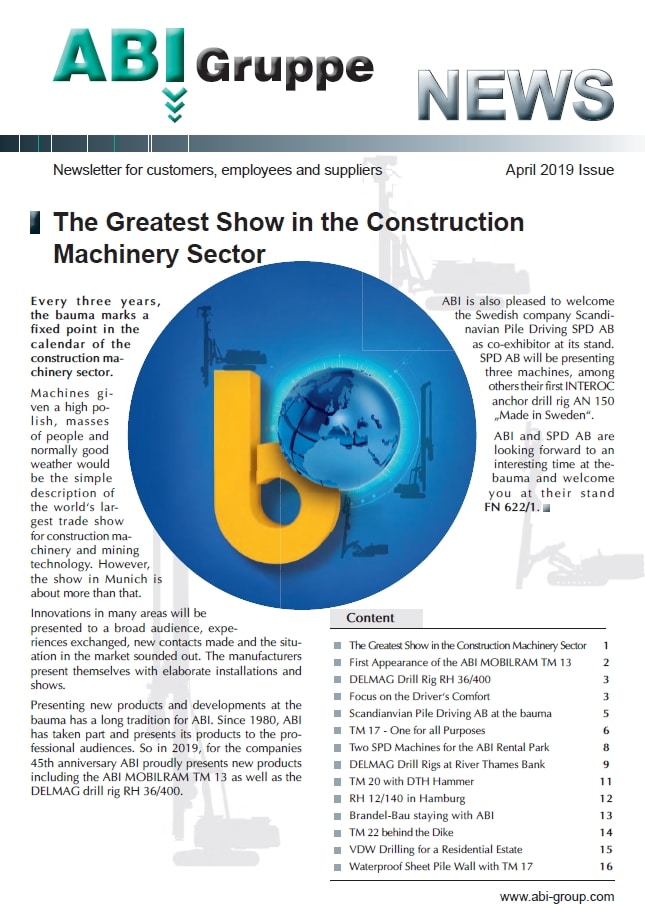 Inside the magazine you can also read an introduction to SPD AB (Scandinavian Pile Driving) who will be exhibiting with us, and there is a job report for a recent project involving the ABI Mobilram TM22 rig which will also be on show along with a range of it's attachments.
As regards ABI Equipment Ltd here in the UK, we are delighted to have had our recent project at Woolwich Royal Arsenal (the former site of the Woolwich Power Station) selected as a leading example of the use of these powerful Delmag RH28 drilling rigs. You will remember that we had a total of 3 rigs on site at this location – and you can read the more about in the article entitled 'DELMAG Drill Rigs at River Thames Bank'
Click on the main front cover image to read and download your PDF copy of the latest issue.