The 2018 edition of the ABI Group newsletter is out!
And guess who is on the front page?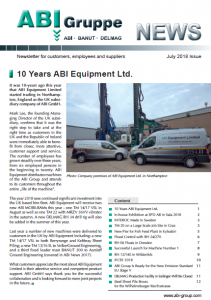 ABI Gruppe News is an annual publication (both print and digital) produced by our parent company in Germany.  We are delighted that this year's issue leads with the news that we, ABI Equipment Ltd, their UK subsidiary are celebrating our 10th Anniversary year!
Mark Lee our Managing Director started the company in the early months of 2008. He recognised a desire from UK contractors to take advantage of the innovation, adaptability, efficiency and durability of the equipment manufactured by the brands within the ABI Gruppe umbrella, and wished to be able to better serve these clients.  ABI Equipment Ltd emerged as a specialist equipment supplier based centrally in the UK and has been welcomed throughout the industry.
As well as our front page exposure, there is also a featured case study of works carried out by one of our fleet ABI TM 16/20 B rigs on the Isle of Skye last winter.  The project was to expand the existing pier structure – and during the worst months of the year, especially in this location. But needless to say the equipment chosen for the work performed admirably!
Click the button to download the full version of the magazine in pdf format.