2019 sees the return of Bauma - the leading trade fair for the construction industry.
Here's what you need to know...
What is Bauma?
Bauma shouldn't really need any introduction to members of the construction industry - it is without doubt the number one trade show for our industry sector, and the best place to visit to keep up to date with all the latest and greatest innovations. Set over a full week, once every three years, Bauma is etched into the diary of all the leading industry professionals - ourselves included!
You will see and meet all the major market players, and be able to get up close and personal with the equipment. The show ground is huge, and attendance numbers are high - we suggest you take at least a couple of days to fully appreciate everything that the show has to offer.
@ Messe Munchen
trade fair center
click to open the site plan: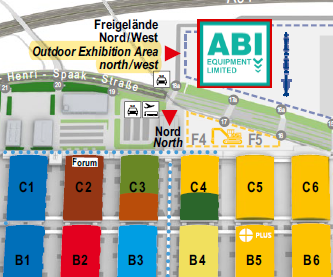 The ABI Gruppe are exhibiting in Open Air North, stand 622/1.
The full list of exhibitors can be found here and there is an interactive map showing the layout details for each area.
You can also see the location on Google Maps here
Stay informed
Sign up below and we will keep you informed about Bauma 2019 as and when more details become available, including details of how to book your entry tickets.
We would also like your permission to send you occasional emails containing our company news, but you need not agree to this if you would rather not receive them. Please make sure you select the right privacy option before submitting your form.
Please note that ABI Equipment Ltd cannot advise on or arrange travel or accommodation for independent visitors travelling to BAUMA.
Why should you visit Bauma?
Quite frankly... why wouldn't you??
Whether you are one of the top construction companies, or a smaller but invaluable niche sub-contractor Bauma is your opportunity to see, learn, meet and network. With such a huge array of industry members participating in the event, you will find all the latest technology, innovations, methodologies and advancements in your field. See the latest equipment, watch demonstrations, talk directly to the manufacturers - Bauma is your chance to see and meet the key players in construction. Whether you are looking for specific solutions, or merely wish to enjoy some time soaking up the atmosphere, you really do need to visit.
If you are still in any doubt, the figures speak for themselves:
Bauma Facts & Figures from the 2016 exhibition
583,736 visitors

from 219 countries
3,425 exhibitors

from 58 countries
605,000 m² of exhibition space

1,423 journalists and media representatives
... and this year will be even bigger and even better!